Sweet Indonesian soy sauce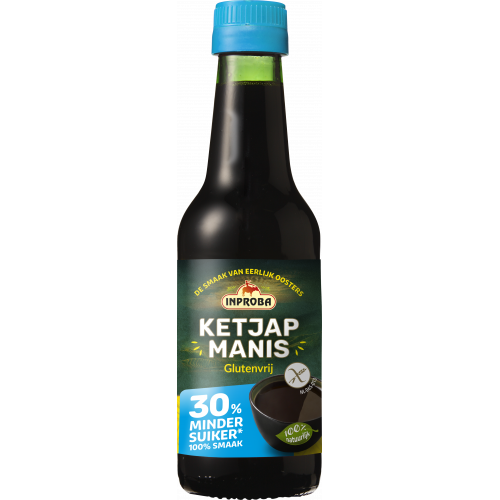 Sweet Indonesian soy sauce
30% less sugar!
Half of the sugar in this soy sauce has been replaced by Stevia extract, a sweetener of natural origin. By adding Stevia extract this soy sauce maintains its delicious taste. Stevia extract is a vegetable product and is extracted from the leaves of the Stevia plant also known as Stevia rebaudiana.
* than comparable sweet soy sauces
This sweet soy sauce consists of all 100% natural ingredients and is gluten free! It adds a tasty, authentic flavour to any Asian or other dish. Perfect for soups, sauces, meat, fish, and stir-fry dishes.
Content: 250 ml
Ingredients
Water, molasses, salt, vinegar, sugar, soya sauce powder (soya beans, salt, maltodextrin), thickener: xanthan gum, natural flavourings, sweetener: stevioglycosides.
Typical Values
Per 100 ml:
Energy:662 kJ/156 kcal
Fat: 0 g
of which saturated fatty acids: 0 g
Carbohydrate: 34 g
of which sugars: 34 g
Protein: 4,4 g
Salt: 10,3 g