Chilli Sauce Mild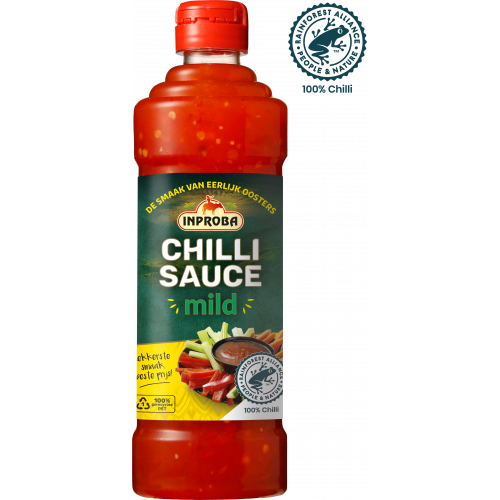 Chilli Sauce Mild
A tasty mild and sweet sauce with hint of spices. Very good with grilled chicken, barbecue, fondue and many Asian dishes.
Tip: Chilli Sauce Mild is a great dip for crisps, vegetables or egg rolls.
With Rainforest Alliance Certified-Seal! Want to know more? See our Rainforest Alliance certified page.
Content: 500 ml
This product is packaged sustainably. As of October 2020 we switched to 100% recycled PET packaging (r-PET) for all the PET packagings we use at Inproba, which is a very nice step towards sustainability.
The recycled PET packagings can be recognized by a very light blue cast.
Ingredients
Water, sugar, chilli peppers* 8,4%, paprika, modified corn starch, salt, acid: acetic acid, garlic, onions, thickener: xanthan gum, preservative: potassium sorbate.
*100% Rainforest Alliance Certified
Typical Values
Per 100 ml:
Energy: 681 KJ/ 160 kcal
Fat: 0 g
of which saturated fatty acids: 0 g
Carbohydrate: 38 g
of which sugars: 35 g
Protein: 0 g
Salt: 3,13 g