Chilli Sauce 50% less sugar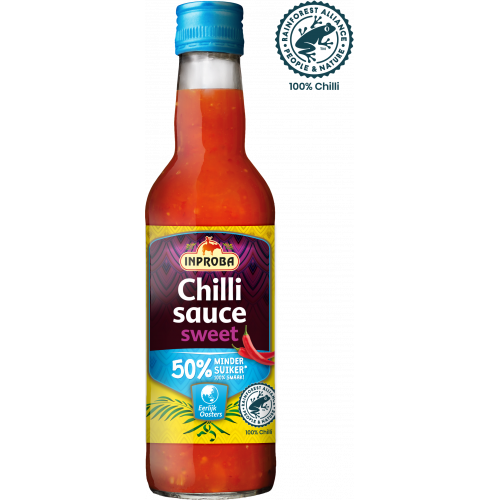 Chilli Sauce 50% less sugar
50% less sugar *, 100% taste!
Half of the sugar in this chilli sauce has been replaced by Stevia extract, a sweetener of natural origin. By adding Stevia extract this sweet / spicy chili sauce maintains its delicious taste. Stevia extract is a vegetable product and is extracted from the leaves of the Stevia plant also known as Stevia rebaudiana.
* than comparable sweet chili sauces.
This delicious sweet / spicy chili sauce is indispensable for many (oriental) dishes, but is also delicious as a dipping sauce with a sandwich, spring rolls, chicken, prawn crackers or raw vegetables. Also delicious as a seasoning in sauces, salads or marinades.
With Rainforest Alliance Certified-Seal! Want to know more? See our Rainforest Alliance certified page.
Ingredients
Water, sugar, red paprika, chillies* 4,3%, modified corn starch, salt, acid: acetic acid, onion, garlic, thickener: xanthan gum, preservative: potassium sorbate, sweetener: stevioglycosides.
*100% Rainforest Alliance Certified™
Typical Values
Per 100 ml:
Energy 484 kJ/110 kcal
Fat 0,2 g
of which saturated fatty acids <0,1 g
Carbohydrate 28 g
of which sugars 21 g
Protein 0,4 g
Salt 2,8 g