Ketjap Marinade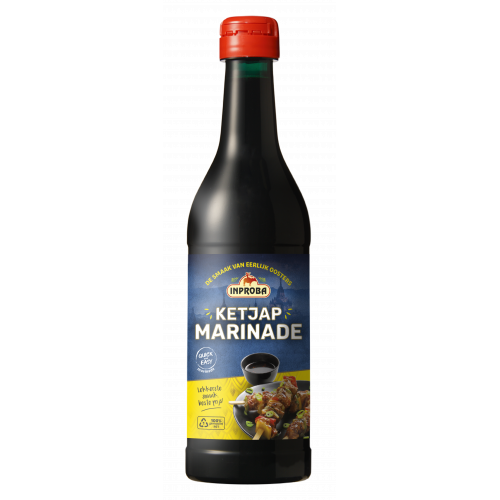 Ketjap Marinade
This spicy oriental marinade is perfect for marinating chicken (e.g. drumsticks), chops, spare ribs, sateh, etc. before frying, grilling or cooking on the barbecue. This marinade is also delicious for marinating tofu and tempeh.
Preparation: Use 4-5 TBS of Ketjap Marinade for every 250 g of meat and leave it to marinate for at least 20 minutes. Prepare the meat in the normal way. If the meat is to be fried, we suggest you to use oil instead of butter.
Content: 500 ml
This product is packaged sustainably. As of October 2020 we switched to 100% recycled PET packaging (r-PET) for all the PET packagings we use at Inproba, which is a very nice step towards sustainability.
The recycled PET packagings can be recognized by a very light blue cast.
Typical Values
Per 100 ml:
Energy: 698 kJ/166 kcal
Fat: 6,1 g
of which saturated fatty acids: 0,7 g
Carbohydrate: 23 g
of which sugars: 18 g
Fibre: 1,9 g
Protein: 3,0 g
Salt: 8,1 g