Bami Goreng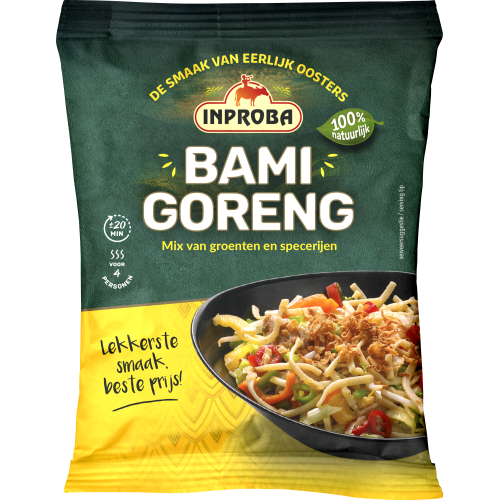 Bami Goreng
30% less salt*, 100% taste!
* compared to our recipe before
100% natural ingredients!
Bami Goreng, mix of vegetables and spices.
Content: 45 g.
Add yourself: (for 3-4 people)
250 g noodles
250 g diced pork or chicken
2 tbsp Inproba Wok Oil or vegetable oil
450 g finely chopped mixed vegetables (e.g. leek, onion, carrot)
50 g cubed ham
Preparation:
Boil the noodles as instructed on the packaging.
Fry the meat in the oil on a high temperature until
cooked through.
Stir-fry the fresh vegetables until they are 'al dente'.
Add the Bami Goreng mix along with 100 ml of water
and stir it all for 1 to 2 minutes.
Finally, add the ham cubes and the drained rice noodles
and fry whilst continuously stirring.
Serving suggestion: Add Inproba Ketjap Manis and Sambal Oelek to your taste.
Tip: Serve the chow mein with a fried egg and Inproba's Fried Onions, Atjar Tjampoer and Kroepoek.
Enjoy!
Ingredients
Vegetables 58% (onion, carrot, leek), spices and herbs 23% (coriander seed, galangal, turmeric, ginger, garlic, cumin, lemongrass), salt, mineral sea salt, yeast extract, sunflower oil, onion powder.

May contain traces of gluten, peanut, milk and celery.
Typical Values
Per 100 g prepared product*:

Energy: 448 kJ/106 kcal
Fat: 1,4 g
of which saturated fatty acids: 0,3 g
Carbohydrate: 14 g
of which sugars: 1,5 g
Protein: 8,5 g
Salt: 0,5 g
*prepared with diced pork
Recipe with this product Bami Goreng: