Bami Goreng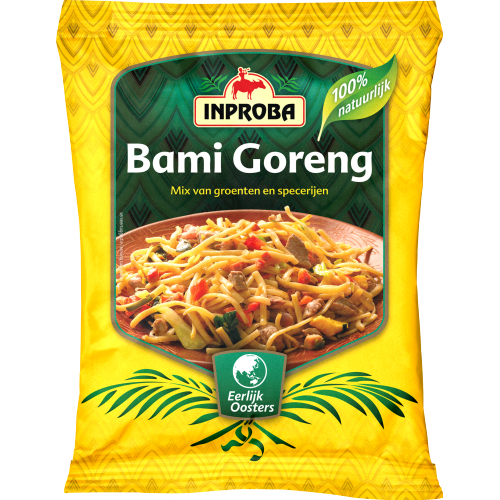 Bami Goreng
30% less salt*, 100% taste!
* compared to our recipe before
100% natural ingredients!
Bami Goreng, mix of vegetables and spices.
Content: 45 g.
Add yourself: (for 3-4 people)
250 g noodles
250 g diced pork or chicken
2 tbsp Inproba Wok Oil or vegetable oil
450 g finely chopped mixed vegetables (e.g. leek, onion, carrot)
50 g cubed ham
Preparation:
Boil the noodles as instructed on the packaging.
Fry the meat in the oil on a high temperature until
cooked through.
Stir-fry the fresh vegetables until they are 'al dente'.
Add the Bami Goreng mix along with 100 ml of water
and stir it all for 1 to 2 minutes.
Finally, add the ham cubes and the drained rice noodles
and fry whilst continuously stirring.
Serving suggestion: Add Inproba Ketjap Manis and Sambal Oelek to your taste.
Tip: Serve the chow mein with a fried egg and Inproba's Fried Onions, Atjar Tjampoer and Kroepoek.
Enjoy!
Ingredients
43% vegetables (onion, carrots, leeks), 23% spices (coriander, galangal, turmeric, ginger, garlic, cumin, lemongrass), salt, palm oil, wheat flour, lupin, sea salt, yeast extract, sunflower oil.
Typical Values
Per 100 g prepared product*:

Energy: 400 kJ/96 kcal
Fat: 1,8 g
of which saturated fatty acids: 0,5 g
Carbohydrate: 13 g
of which sugars: 1,8 g
Protein: 6,2 g
Salt: 0,45 g
*prepared with diced pork
Allergens
1.wheat 2.lupin.
Recipe with this product Bami Goreng: