Wok Oil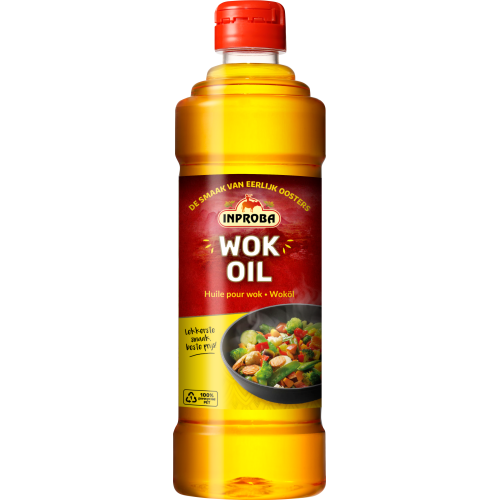 Wok Oil
This lovely and light aromatic vegetable oil is very suitable for heating at high-temperatures. Perfect for wok and stir-fry dishes. Inproba Wok Oil gives an Asian flavour to any dish.
Content: 500 ml.
This product is packaged sustainably. As of October 2020 we switched to 100% recycled PET packaging (r-PET) for all the PET packagings we use at Inproba, which is a very nice step towards sustainability.
The recycled PET packagings can be recognized by a very light blue cast.
Ingredients
Sunflower oil, rapesees oil, toasted sesame oil, flavouring.
Typical Values
Per 100 ml:
Energy: 3405 kJ/ 828 kcal
Fat: 92 g
of which saturated fatty acids: 9,4 g
Carbohydrate: 0 g
of which sugars: 0 g
Protein:0 g
Salt: 0 g
Recipe with this product Wok Oil: