Chopped Garlic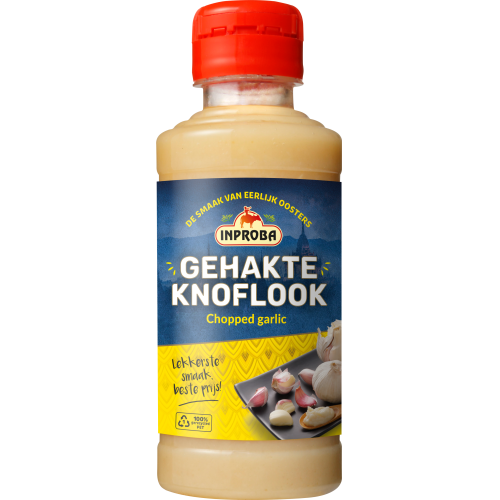 Chopped Garlic
Made from freshly chopped garlic cloves. Ideal for giving sauces, salads and stews a Mediterranean touch in no time. An indispensable ingredient in oriental dishes. One teaspoon of Chopped Garlic equals one garlic clove.

Content 200g in easy to dose packaging!
This product is packaged sustainably. As of October 2020 we switched to 100% recycled PET packaging (r-PET) for all the PET packagings we use at Inproba, which is a very nice step towards sustainability.
The recycled PET packagings can be recognized by a very light blue cast.
Ingredients
Garlic 70%, salt, sugar, water, sunflower oil, acid: citric acid.


Typical Values
Per 100 g:

Energy: 730 kJ/ 173 kcal
Fat: 3,8 g
of which saturated fatty acids: 0,5 g
Carbohydrate: 29 g
of which sugars: 21 g
Protein: 4,9 g
Salt: 10 g